Mahipal Mohan1>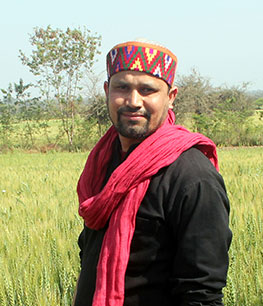 Mahipal has been with SRUTI for the past 16 years. He left his home in Ranikhet, Uttarakhand at a young age and came to Delhi. His initial involvement with SRUTI was to assist in our fundraising activities – making cloth and paper bags, gift envelopes etc – recycling paper and marketing them through government and private agencies, IT companies and RWAs. His quick learning and efficient people-skills made him an indispensable part of the team.
Attending team training on caste and gender allowed him to develop a holistic perspective and develop critical thinking. He learned skills of photography and video-editing and uses it to effectively document the various issues in our working areas. His roles include maintaining digital archives and involvement with training and perspective building methods.
His involvement as a participant and trainer at School for Social Change has been a transformative journey. It broke the illusions of a middle-class life for him, and made him aware of the acute need to address social inequality. He feels that to make equality possible, education, health and public transport should be prioritized. He has undertaken field visits to various states and worked closely with the pastoral and rural communities of Uttarakhand. He focuses on building understanding on issues of caste and communalism.
Better known as Mohan, he loves clicking pictures. Few of his photographs have found place in leading newspapers and social media portals. In 2019, he compiled and edited a souvenir in memory of late SRUTI fellow, veteran activist Khemraj Choudhary from Rajasthan – called Khemraj Bhai ki Dairy. During the pandemic, he made a short film to document the sufferings of the working class people in Ayodhya and has also co- authored a compilation of testimonies on the issue. As a sensitive and caring person, he sets out to take initiatives and is a natural leader.
Mahipal is one of the most curious persons in the team. His curiosity has helped him learn many new traits – from cooking traditional delicacies from different regions of India to learning various aspects of film making and photography. In his leisure time, he loves to play cricket and listen to music.