Siddharth1>
Siddharth
Senior Programme Executive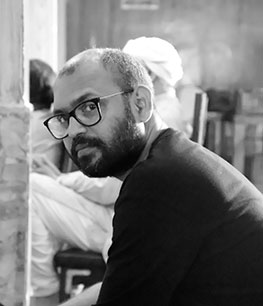 Siddharth grew up in the laps of Shivalik Himalayan range, in a small town named Srinagar (Garhwal) close to Dehradun. His mother's keen interest in culture, literature and her fascinating way of narrating folklores, were the stepping stones, tingling his interest in writing and literature.
For seven odd years, Siddharth worked as an engineer across various locations in India. His work travels gave him opportunities to build riveting conversations with people across socio-economic and cultural backgrounds. Engaging with people and connecting with their lives provided him with experiences that inspired him to switch jobs and indulge in more meaningful work.
With an interest to explore new work environments, he pushed himself to try his hands at new endeavors. He got an opportunity to work with a digital media platform Youth Ki Awaaz. His two-year stint with YKA allowed him to bring shape to his ideas. Siddharth established and activated the Hindi content channel for the platform and worked in the capacity of a Hindi editor. As a citizen-journalism platform, YKA gave him diverse exposure to various issue-based stories, all penned with a deep sense of simplicity. Taking his interest and passion ahead, he has been working with SRUTI since 2018 in the Media and Communication vertical. He is engaged in running a youth magazine Yuvaniya and building resource material for the School for Social Change initiative.
A creative and prompt person, he is famous among his friends for singing self-composed jingles and parody songs on guitar chords. Siddharth likes to explore a variety of music and is a big fan of tech videos and OTT content with strong stories in his free time.