Tejasvita1>
Tejasvita
Assistant Program Executive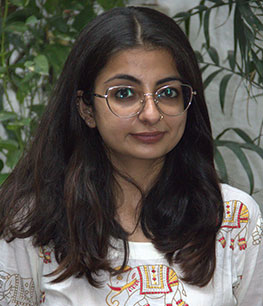 Tejasvita completed her Master's degree in Social Work (Public Health) from TISS, Mumbai in 2018. During her education years, she has worked closely with communities of women and children in slums, tribal areas, fishing communities and has involved with sex workers and transgender collectives.
Immediately after completing her education, she went ahead to work with a people's movement group in Madya Pradesh – Jagrit Adivasi Dalit Sangathan (JADS). Her involvement with the collective included work on Land and Forest Rights, dissemination of information on various rights and laws, MGNREGA implementation, and ensuring effective outreach of schemes such concerning PDS, pension, health, and engaging in legal follow-up.
Her experiences helped her to learn about collective mobilisation, capacity building, collaboration with multiple stakeholders, surveying, data collection, and audio-video documentation. At present, Tejasvita is involved in the capacity of an Editor for a youth initiated magazine Yuvaniya along with working with the youth through the School for Social Change. Tejasvita is working to deepen her understanding of peoples' rights over their lands and learn about development projects in relation to community rights.
She is motivated to work at the grassroots level by taking a holistic approach of public engagement. She is eager to go on field trips as she enjoys meeting and interacting with new people and documenting their lived experiences. She enjoys reading books and humming to old songs and is owned by her cat. She realises and appreciates her privileges in society and wishes to work for the same rights and privileges of all communities. She believes that it is crucial to come together, help each other, form a Sangathan and make it a way of life to fight for our rights.